Are you struggling to create engaging content for your pedigree cat breeding business? 🐱
50-Day Social Media Marketing Posts for Pedigree Cat Breeders – your ultimate resource for pre-written content for your social media accounts.  These are designed to boost your online presence and skyrocket your pedigree cat breeding business!
Tailor-made for pedigree cat breeders, this comprehensive 50-day digital marketing calendar is designed to enhance your online visibility, attract your ideal customers, and improve your conversion rates.
How can this pre-written campaign help you as a cattery?
Saves You Time
Increases Engagement
Boosts Your Brand
Showcases Your Expertise
Attracts New Customers
Makes Posting Effortless
What type of content is in the 50 day Social Media Marketing Posts?
These well thought out social media posts consists of interesting cat facts and contains 50 unique social media posts with a suggested images and hashtags to go with your post. Your struggle of trying to find content to post is OVER!
Example of our Cat Facts Posts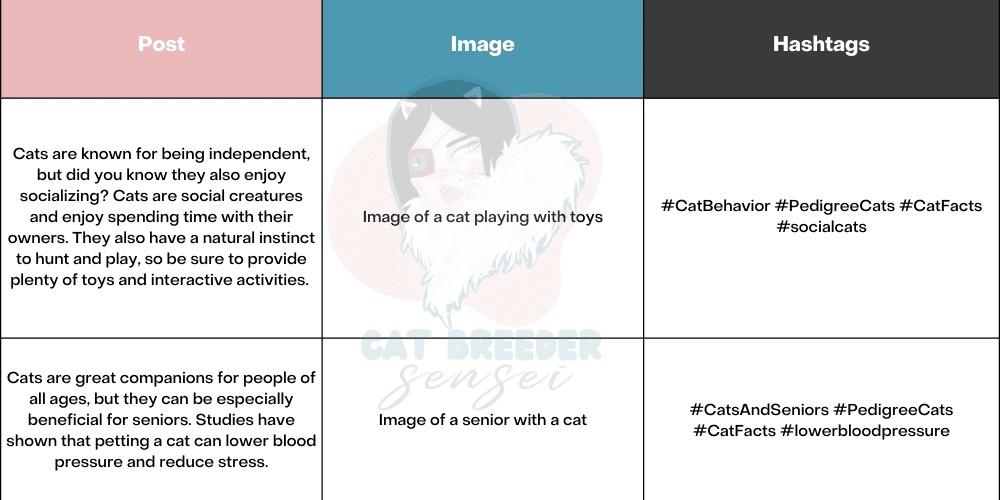 How do I use the Pre-written Content?
When you receive your content file, you'll find it arranged in a nice organized fashion so that you can easily keep track of which posts you've used on your social platforms, and which date they were posted.  All you have to do is pick the post that you want to use that day and copy paste it into your social media account.
If you really want to get fancy, you can SCHEDULE all 50 posts in one day so that you can set and forget it! 
Don't miss your chance to thrive in the competitive world of pedigree cat breeding. Invest in your success with the "50-Day Social Media Marketing Masterplan for Pedigree Cat Breeders" and witness your online presence soar like never before.
Order now and take the first step towards transforming your business today!