Learning how to transport kittens both domestically and internationally is helpful to your cattery. With the power of the internet, buyers of your kittens will come from many different locations. If you're able to offer delivery and transport your kittens, you'll greatly increase your audience.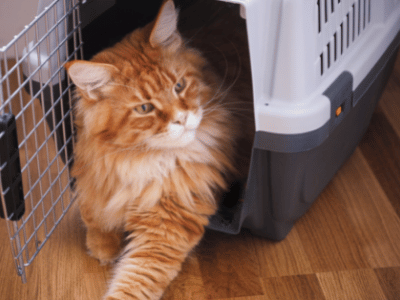 There's several options when it comes to transporting your kittens and/or retirees. These options are also available when you are adding a new kitten to your cattery and need to find transportation if you didn't buy locally.
This podcast episode will review each option that you have as a breeder, and explain in detail some ideas on how to handle the transporting based on the method that you choose.
Domestic Delivery Options for Traveling Kittens
If your kitten is traveling within your country, here are some options for delivery.
Buyer Pickups Kitten At Cattery
People that live close enough to your cattery can pick their kitten up at your cattery. Schedule a date, time, and duration for kitten pickups. Otherwise, you may get random drop-ins from people who stay longer than you're expecting. Additionally, be mindful of people handling your cats and kittens. Viruses can be brought in on visitors clothes, hands and shoes. Set limitations on what you allow in your cattery.
Meet Buyer at the Airport
If your buyer is traveling to pickup their kitten, they may opt for you to meet them at your airport. Deliver the kitten in an airline approved travel carrier. Be sure to line the carrier with puppy pads in case the kitten has an accident during his travels. Food, water and toys may also be required depending on how long the kitten will be in the carrier.
Travel Nanny By Car
You or a travel nanny can deliver the kitten to their new home by car. If this the method of choice, your kitten can travel in comfort with a travel tent. This is a rather large tent that goes in the back seat. It's large enough to house the kitten, a litter box, toys and blankets. The kitten can relax and stretch out while he/she is traveling home. The distance that is traveled by car can be determined on a case by case basis, or you can limit the number of one way miles to whatever you like.
Travel Nanny By Airplane
There are several reliable companies that specialize in transporting cats and kittens. Typically if you're using a travel nanny for flight, you'll meet then at your airport with the kitten in the carrier. The kitten will fly in-cabin and the nanny will accompany the kitten until it arrives to it's new owners. The meeting place is usually the buyer's airport.
We don't recommend anyone that we don't use and stand behind ourselves.
Flat Rate of $750 anywhere in the USA
COMMUNICATION: You and your buyer receive constant communication during travel so you know the status at all time.
LOCATION TRACKING: Follow the location of the kitten and the travel companion the whole time
SPECIAL HANDLING: Every kitten is precious cargo to us. Your kitten will get first-class treatment during his trip home.
International Delivery Options for Traveling Kittens
Personal Flight Nanny/Courier
The international courier works the same way as a domestic flight nanny, except this one will travel internationally. They are familiar with customs and processing kittens out of an into a new country.
Kittens Flies Cargo
When a kitten flies cargo, it's not traveling with passengers, rather freight. The kitten will arrive on a cargo airline, and the process for picking up a kitten that is traveling cargo involved clearing the kitten though the customs office. Check with your local customs office to see what the procedure is for handling this.
---
---