Is it Ethical to Make a Profit from Breeding Kittens?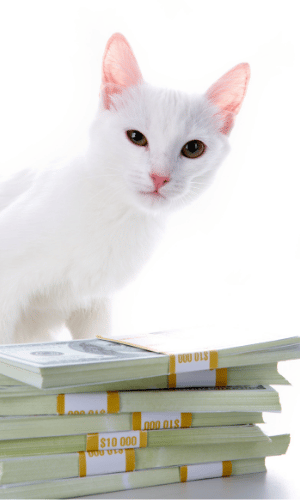 Most breeders think about how much you should charge for kittens. Ethical is "relating to moral principles or the branch of knowledge dealing with these". In other words, wrong or right behavior.
If you feel guilty about making a profit from breeding kittens then yes, you're going against your moral principles. In that case, ask yourself how much your time is worth. How much time do you spend working in your cattery, and caring for cats?
This Episode might offer some insight into how much you can charge for your kittens. It also gives you some things to consider as far as the time you spend as a Pedigree Cat breeder.
Ultimately, it's about giving yourself permission to make a profit from your kittens as long as you're keeping the best interest of your cats at the top of your priority list. If you allow yourself to get compensated for your time, knowledge and experience, then good for you!
Know Your Kitten Market
To help you determine a "fair" price for your kittens, you can research what other breeders are charging for their kittens. Look at breeders in your area as well as in other parts of the country. In today's society, buyers aren't focused on getting their kitten from a "local" breeder as much as they're interested in the health and temperament of their kitten.
Create a spreadsheet and document what others are charging. There will be a great swing in price. It will be fun for you to determine what or why the price difference for the same breed of kitten.
There are several ways to research the market. The episode will explain several ways you can research yourself, and know how to identify a higher demand for your breed.
Build Credibility for Kitten Buyers
People that are looking for a Pedigree kitten typically seek out the breeder first. Learning about the breeders practices, husbandry and knowledge will help them make a decision on where to get a kitten from. We WANT informed buyers out there. Impulsive decisions can sometimes lead pet owners down the wrong path.
Do you part by educating people about your breed and your cattery. Be a real person. Be someone that they can talk to and discuss this big decision to bring a new pet into their home. The podcast episode gives some ideas on how to make yourself more appealing to the public.
Add Value for your Pet Owners
You should strive to go above and beyond the "normal" expectations from a breeder. Find ways to over-deliver and make the adoption process of your kittens a positive one that they will remember for the rest of their lives. For example, offering lifetime support to the families that own your kittens is a wonderful way to show that you'll be there for them after the sale. That is a very important benefit for pet owners, especially if they are first-time cat owners. This is something that you would want to cover the fine details of in your cat breeder contract.
Listen to the podcast episode 9 to learn more ways to add value for people to buy from your cattery, and justify the price for your kittens.
Cat Breeder Sensei was created to start a POSITIVE Movement in the Pedigree Cat Breeder Community! We want the next generation of breeders to have more knowledge, more insight, and be more helpful to their peers. Join us in celebrating the fascinating world of breeding Pedigree cats and spread the word that WE WILL NOT ACCEPT NEGATIVITY. <3 Learn How to Breed Cats and do you part.
Share this podcast on your social media accounts and don't forget to subscribe to the podcast