Alot of people think that breeding Pedigree cats is easy. Just put a male and female together, and bam, kittens. It's not as simple as it sounds. In this podcast episode, you'll hear some ideas on how to introduce your cats when it's time for mating.
Cats don't typically like cats that they haven't known for a while, or aren't familiar with. That's why the mating process can be challenging for some cats (not all). Every kitty is different and will respond differently. If you have a plan of action for different scenarios, then you will be prepared.
Here are few different scenarios that you may encounter between your cats:
Sire and Queen are in the "Friend Zone" :
Queen Just Wants to Fight The Sire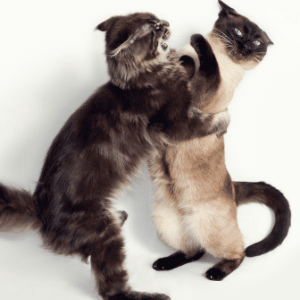 Do you have a feisty female? Is she perhaps a tortie? LOL If you bring the Queen to her Sire, and all she wants to do is fight, she may scare the male off.
If the male is more on the timid and polite said rather than aggressive, she may scare him into a corner. In this situation, the Queen usually doesn't know the Sire at all, and isn't comfortable in new environments. Listen to the podcast Episode for solutions!
The Sire or the Queen Show No Interest
When you introduce the male and the female for mating, and she is in full estrus, the male should pick up on that immediately by her scent. She will also display physical behavior that he will recognize as in invitation to mate. If you don't see any of the "courtship" taking place, then you'll need to analyze what's going on.
Not all cats are willing to mate. Some have preferences over other cats, and will just deny mating with a particular cat. If one of your cats is unwilling to mate with a specific partner, then maybe present a new partner to them to rule out an unwillingness to mate in general.
Patience is the Key
In most mating scenarios, patience is the key. The hormones will usually take over and the cats will mate. Smacking each other, hissing and growling are all a normal part of the mating process. Don't mistake that for "fighting" with each other. Fighting between two cats is an undeniable event. It's scary and is intimidating.
Now that you have some insight on how to introduce cats for mating, you can have more confidence in knowing how to handle each situation. Best of luck to you!! Remember; The Best Way to Do things is YOUR WAY. <3